Murals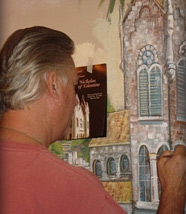 01.02.2012
"Thank you for making the Florida Hospital Cancer Institute a warm and inviting environment for our patients and staff. It has been a pleasure working with you, as your work ethics have been above and beyond. We appreciated your honesty and integrity."


Florida Hospital Cancer Institute - Orlando, Florida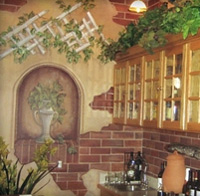 03.04.2012
"My wife and I interviewed quite a few artists to complete our home project. We felt that you really cared and showed a real passion in anticipation of the final outcome. You went beyond what I would have imagined. To you, acceptable was not good enough. To future clients… even an anal retentive, detail oriented client like me, can be made happy when the work is done by a master!"

R. Weaver
- Viera, Florida.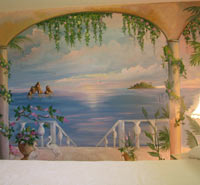 08.06.2012
"We want to thank you for the murals you painted in our home. The quality of your work is superb and your effortless ability to create life like images is exceptional. Everyone who sees your art in person is amazed with how natural the paintings are. The elaborate beauty was far above our greatest expectations."
J.& K. Hudzik
- Clark, New Jersey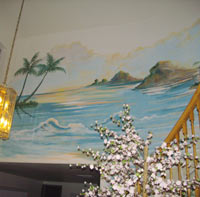 03.04.2012
"You have been an inspiration and a joy to work with. We began with a concept…and had vague ideas of what we wanted to accomplish. You worked with us and together we came up with wonderful ideas. Our home now serves as an example of what can be accomplished for anyone who has a desire to bring color, design and individual style to their home. In addition to being a talented artist you were fun and a pleasure to have in our home."
L. & M. Collins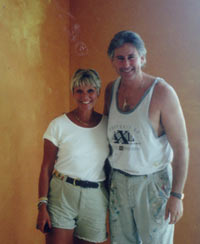 08.06.2000
Hi Frank,
I wanted to thank you and Larry for adding your touches of beauty to our fun "Pink house"...I know we will enjoy them for I hope many years! I enjoyed getting to know you, even if it were for a brief time...
...Enjoy life and creating your beauty.
Peter Pan's baby girl,
Heller Halliday - Vero Beach, Florida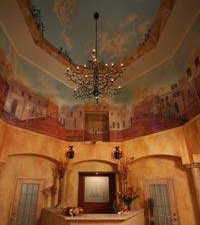 03.04.2012"His artistic ability is almost sacred. He can capture a feeling through color and transform a thought into a reality with no forced effort but with intense passion. La Bella Spa is proud to introduce Frank Rao's was a showcase of esthetic finesse."
La Bella Spa - Merritt Island, Florida
03.04.2012 " Frank Rao was by far our number one choice due to timeliness of his quote, extensive experience, quality references and reasonable quote. We found him to be pleasant, efficient, and clean. He was responsive and flexible with changes, had a great attitude and was a true pleasure to work with. He came highly recommended to us and we highly recommend him to others.




Symetrics Industries, LLC - Melbourne Florida

---
Sculpted Simulated Masonry