WINDOW FASHION VISION
MAGAZINE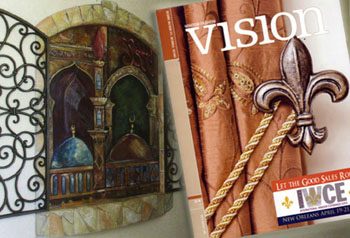 ....To add more of the faux iron element to the room a curved niche in one of the walls was painted with a mural, designed as if viewer were looking out over the rooftops of an Indian village. The faux iron shutters help complete the illusion. "I always say that the window treatments are the jewelry of the room, they complete a room like a necklace adorns a beautiful dress," said Sperry. "This amazing window was a great opportunity to put my philosophy into practive.

Credits: Designer: Vickie Sperry, Luxe Home Interiors....
Artist and Muralist: Frank Rao, Mellbourne, FL.